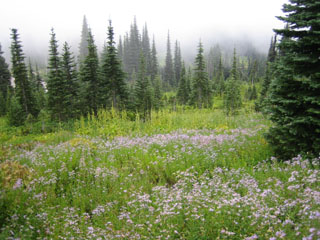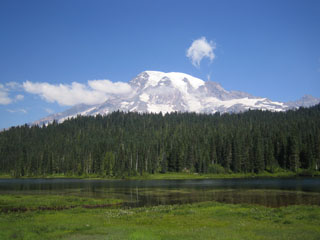 Day-Tripping Mt. Rainier

Mt. Rainier National Park has been described as a "mountain wonderland" famous for its dense forests, wildflower meadows, snowfields and glaciers. It is a destination that has been popular with hikers, sightseers, campers and mountain climbers for the past 100 years.
Located in Lewis County, Washington, 54 miles southeast of Seattle.

It is America's fifth oldest national park, after Yellowstone (est. 1872) and Yosemite, General Grant (now part of Kings Canyon) and Sequoia (all est. 1890).

The park itself covers 365 square miles of wilderness.

Mt. Rainier is a 14,410 ft. active volcano that last erupted 150 yrs. ago.

The mountain is the most prominent peak in the Cascade Range, as well as the tallest volcano in the continental U.S.

1.5 - 2 million people visit each year.

Most visitors to Mt. Rainier usually come for just the day, so it is wise to choose one or two locations to visit beforehand. However, this can can be overwhelming for someone who has never visited the park before. As such, the above list consists of "suggested sites".