The Mount Dora Lawn Bowling Club is located in central Florida in the charming city of Mount Dora. Mount Dora is a few miles north of Orlando and is situated at the eastern end of Lake Dora.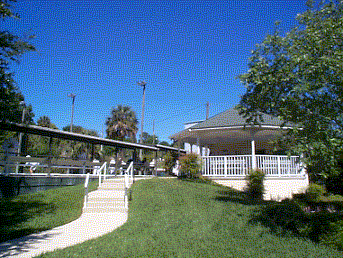 A beautiful walkway from the clubhouse to the rinks
The Mount Dora Lawn Bowling Club, with a total membership of almost 300, is the largest in the United States Lawn Bowls Association.
Spectators and visiting lawn bowlers are always welcome. The club has several sets of used bowls for instruction that visiting bowlers who are members of USLBA or World Bowls-affiliated clubs may borrow. Our guests must pay a nominal fee for a day or week of bowling privileges up to one month.
We have fourteen hard surface lawn bowling rinks where our daily draw games twice a day, Monday through Saturday, attract both social and more competitive players. We also offer a dozen intra-club tournaments each year, with coveted pins for the winners
Our more competitive bowlers also may compete in regional, Southeast Division and national tournaments through our club affiliation with the North Central Florida League and the USLBA. In recent years, four Mount Dora bowlers competed in the United States Lawn Bowls Championships, having qualified by winning the SE Playdowns.
Each year our club also offers members a number of parties and potluck meals, some in conjunction with fun bowling matches.
---