History of the Huntington Public Library
courtesy of the SUNY Stonybrook Historic Postcard Collection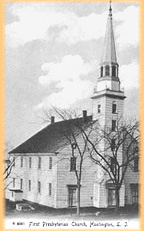 The Colonial Days marked the beginning of the Huntington Public Library. On June 29, 1759, thirty-nine leading citizens of Huntington entered into a covenant to create a circulating library. Reverend Ebenezer Prime, the minister of the First Presbeterian Church, was named as the first "Library Keeper". The orignal collection of 155 books was housed in his home on Spring Steet. With the Revolutionary War came an occupation of Huntington by British troops. Colonel Thompson requisitioned the Reverend's home and used it to quarter his soldiers. During the British occupation the original collection, and Prime's home were destroyed.
The Civil War began a new era for the library. The citizens of Huntington raised capital for a Soldier's Memorial to honor our young men who died in the war. It was decided that the Memorial Building would also house a new library.
During
the 20th Century
the library outgrew the Memorial building and found a new home in it's present location on Main Street.
"As soon as histories are properly told there is no more need of romances"
Walt Whitman (1819-1892)